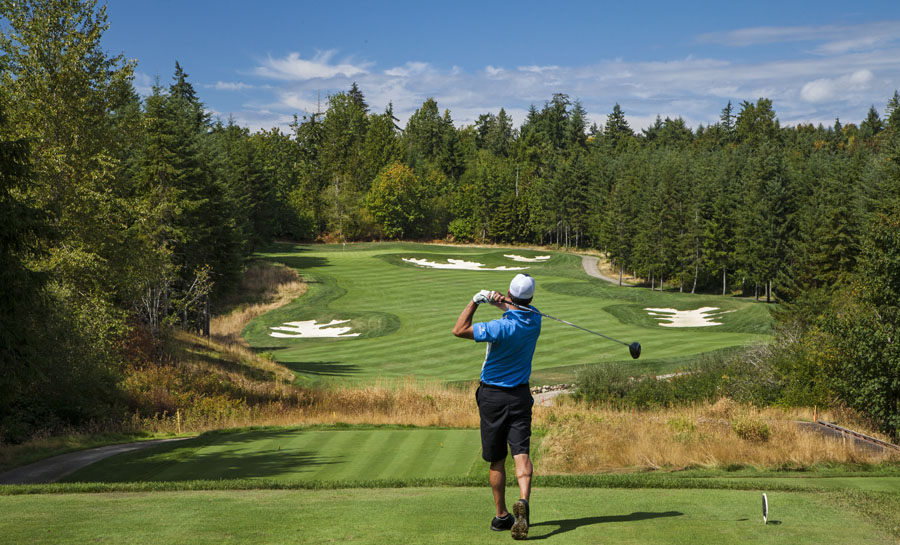 The Squaxin Island Tribe and Little Creek Casino & Resort has set out on a commitment to keep Salish Cliffs Golf Club atop the best golf courses not only in Washington State but also to stay on top of the ratings for top Casino courses in the U.S. and to be recognized in the National Rankings of All Courses.
Let it be clear, the 7,269 yard course, built on 320 acres with 600 feet of elevation change has not gone unnoticed in its nearly 12 years of existence. Quite the contrary, the course and facilities have rocked the awards and media accolades.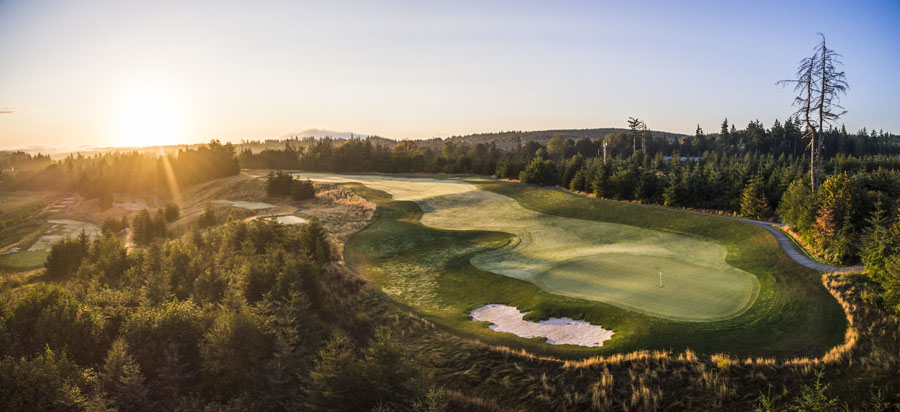 To name a few of their favorites . . .
2011 – National Best New Course – Golf Week & Golf Digest
Top 100 Public and Top 100 Resort Courses in the Nation
Top 10 Casino Courses in the Nation
Best Courses You Can Play – Washington
#1 Ranked Golf Course in Washington State
#1 Course In Washington State for Amenities
#1 Pro Shop in Washington State
World's First Salmon-Safe Sanctuary Golf Course
The award-winning course is conveniently located just over an hour's drive SW from Sea-Tac airport or right at two hours north from Portland International airport. The actual town is Kamilche which is near Shelton, Washington. It is important to note, that because of its temperate climate, the course is blessed with the ability to have year-round playability, not shut down for months as many of the northern tier courses often are.
So why create an aggressive new master plan to include the complete renovation of all 63 bunkers at a cost of $2,000,000 plus the replacement of every bridge on the golf course when you are already at the top of the golf charts?
Two reasons . . . One, to stay on top, you have to continue to lead, improve and innovate. The Tribal council is proud of their achievements and accolades, but by no means are they content with the status quo and have planned for continued growth and features well into the future.
Number Two, the Pacific Northwest can be a challenging weather location on course infrastructure. With four distinct seasons, it can takes a toll on a facility, especially bunkers and wooden structures such as bridges. To remain as the best, you have to continuously maintain and improve the facility to a championship level.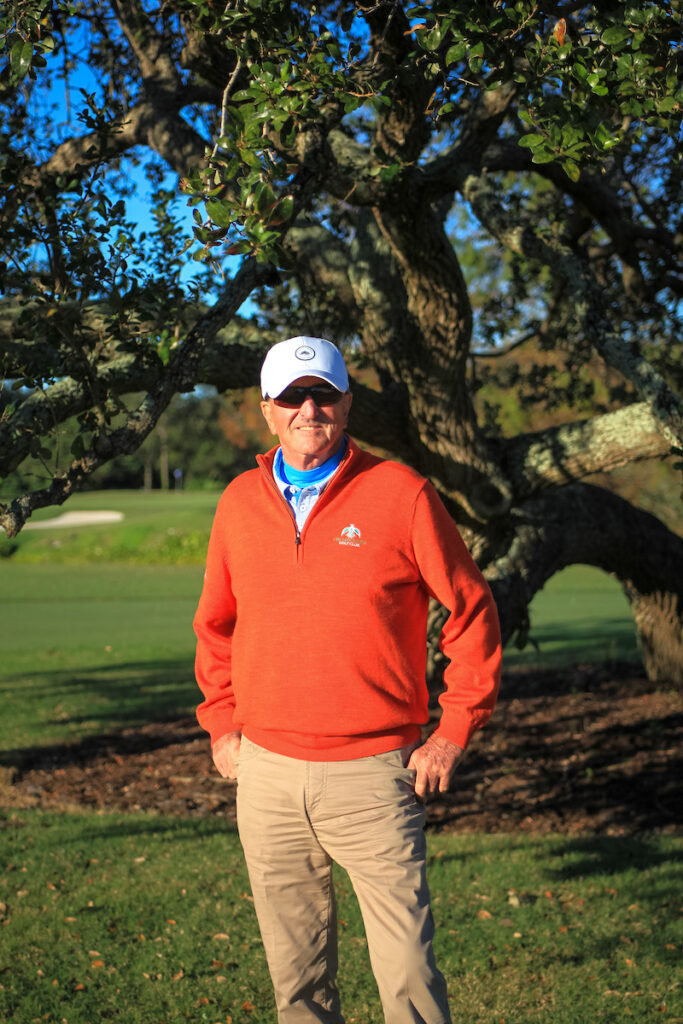 Gene Bates was the original architect and mastermind of this award-winning course, so the Tribe has brought him back to contribute to the new master plan. It is an aggressive and very impressive undertaking which may include the following . . .
Rebuild all 63 bunkers with "Billy Bunker" materials for long-term resilience
Rebuilding all of the course bridges in a Pacific Northwest architectural style
Improvement and expansion of the practice area and driving range
Creation of a short-game practice area as part of the learning center
Building a new 9 or 18 hole golf course to complement and bolster the current course
Create multiple ponds and lakes to augment water storage, irrigation and course aesthetics
Building a new clubhouse to host events and expanded banquet area
Creation of a series of golf course villa cabins for private parties and family stays
Develop a golf academy for both adults and tribal youth to develop lifetime skills
Every plan has to have their hands-on leaders and for Salish Cliffs, one of those would be their Head PGA Professional, Tyler Brown. Hailing from golf rich California. He has both the requisite golf professional skills, but he absolutely embraces the opportunity that the Salish Cliffs offers. If there is one thing that really stands out, it would be his passion for the Tribal members, and especially the Tribal youth.
He sees the Casino, Hotel, Amenities and Golf Course as a resort destination AND a learning center for the Tribal cultural customs of the Squaxin people.
"There is so much to do and learn here," says Tyler, "the hiking, biking, fishing, shell fish gathering, kayaking and potential guided tours are all mixed with a world-class spa and dining opportunities. The words 'Stay & Play' can extend far beyond just golf. As a corporate or family retreat, this is a place where multiple memories and learning opportunities can be made."
This is a topic where the head professional, Tyler Brown becomes introspective, "We are a Tribal project, we are talking about building skills, community pride and lifetime jobs for our community. As we grow our resort, the amenities and programs, our Tribal youth will be learning not only about their unique culture, but will also develop diverse job skills that make them employable anywhere in the world. I am proud to be part of that kind of an opportunity."
Among others, another key member of the Tribal management team was Raymond Peters, who has been deeply involved with the project from the early day one planning stages, through construction and then much of the past 12 years of the course's maturation. His official title is, Intergovernmental Affairs/Tribal Council Liaison, but he has been but one of the many important public faces representing the award-winning project from its inception.
He states that the original concept for the course and resort had many goals and points. With some of the strongest ones here:
Add amenities to the resort to capture a new market demographic and enhance the gaming experience at the Tribal Casino.
Pay homage to the Tribal land and culture, keeping it in a natural state for the Tribe and existing wildlife to include our native salmon runs.
Create meaningful long-term jobs, careers and recreation for both the Tribal and our local community residents, developing work skills that can transfer to employment or recreational enjoyment worldwide.
Expand the resort's footprint from a primarily local facility to a regional / national facility, especially targeting Washington, Oregon, Idaho, California and our Canadian friends up north.
To accomplish these goals, the course had to be highly regarded in design and playability. However, also as important, the course had to build an outstanding reputation for service, experience and maintenance conditions in order to build exceptional PR both locally and nationally. By the looks at the list of golf and amenity awards, they have done that and more.
Raymond is quick to point out that, "The Tribal Council understands that to stay on top, you have to continue to excel and grow. Just maintaining will just not work for the future. The new master plan is designed to maximize the resort experience driving more people to the property. Whether that means expanding the practice facility, adding holes or beautifying the property with new bunkers, bridges, ponds or casitas, each step is calculated by the Tribal Council to stay true to the original goals. This is what drives the overall resort concept and it is a key component of the next step in developing the master plan for Salish Cliffs."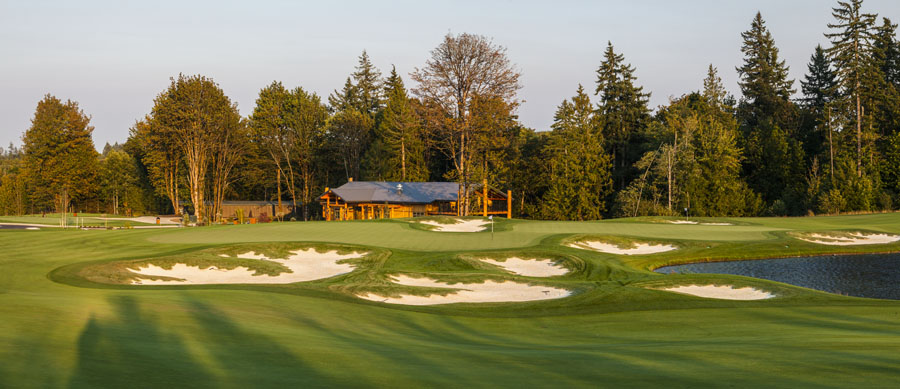 As for the new changes, Golf Architect, Gene Bates is looking forward to working with both the golf staff and tribal leaders to take an existing award-winning facility to a whole new level. The remake of all 63 bunkers project is huge and it will allow Gene to connect with his long-time friend and construction partner, Bob Pearsall who was the lead driving force on the original course construction. Nobody knows the course better than Bob, who has been the on-course superintendent and is virtually responsible for all of the course awards bestowed on the property over the past 12 years. Putting those two together again means nothing but good things are about to happen at Salish Cliffs.
The next few years are going to see some incredible changes that are sure to draw a national following to augment an already appreciative local golf patron base.
The Pacific Northwest and the State of Washington are setting the stage as the next big mecca for quality golf, vacations and cultural experiences. The region is already nationally known as a "bucket-list" of beautiful places to visit. That is soon to become an even more desirous location, especially If you are a player living in the Pacific Northwest, your golf life is about to get a lot better.
By: John R. Johnson
John heads an award-winning golf ad agency and the internationally known GolfPhotos.com
Images provided